Hairfor2 Usage Instructions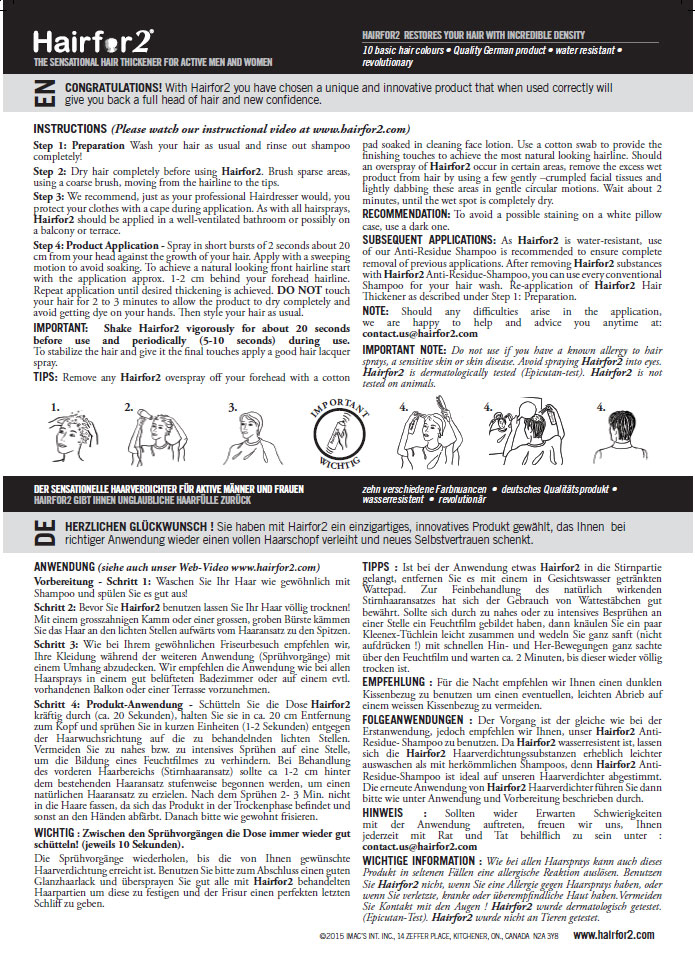 Preparation:
Step 1: Wash your hair with our Hairfor2 Special Anti-Residue Shampoo and rinse out completely!
Step 2: Dry hair completely before using our Hairfor2 Hair Thickening Spray. Brush sparse areas, using a coarse brush, moving from the hairline to the tips.
Step 3: We recommend, just as your professional Hairdresser would, you protect your clothes with a cape during application. As with all hairsprays, Hairfor2 should be applied in a well-ventilated area.
Product Application:
Spray in short bursts of 2 seconds about 15 cm / 6 inches from your head against the growth of your hair. Apply with a sweeping motion to avoid soaking. To achieve a natural looking front hairline start with the application approx. 1-2 cm / 0.4-0.8 inches behind your forehead hairline. Repeat application until desired thickening is achieved. DO NOT touch your hair for 2 to 3 minutes to allow the product to dry completely and avoid getting dye on your hands. Then style your hair as usual.
IMPORTANT:
Shake Hairfor2 Hair Thickening Spray vigorously for about 20 seconds before use and periodically (5-10 seconds) during use.
To stabilize the hair and give it the final touches apply a good hair lacquer spray or our special Hairfor2 Hold and Shine Spray to all areas treated with Hairfor2 Hair Thickening Spray.
TIPS:
Remove any overspray from our Hairfor2 Hair Thickener off your forehead with a cotton pad soaked in cleaning face lotion. Use a cotton swab to provide the finishing touches to achieve the most natural looking hairline. Should an overspray of Hairfor2 Hair Thickener occur in certain areas, remove the excess wet product from hair by using a few gently –crumpled facial tissues and dab these areas very lightly in gentle circular motions. Wait about 2 minutes, until the wet spot is completely dry.
SUBSEQUENT APPLICATIONS:
As our Hairfor2 Hair Thickening Spray is water-resistant, use of our Special Anti-Residue Shampoo is recommended to ensure easy and complete removal of previous applications. After removing Hairfor2 Hair Thickener substances with Hairfor2 Anti-Residue-Shampoo perform re-application of Hairfor2 Hair Thickener as described under INSTRUCTIONS/Preparation and Product Application.
NOTE:
Should any difficulties arise in the application, we are happy to help and advice you anytime at:
contact.us@hairfor2.com
IMPORTANT NOTE:
Hairfor2 is dermatologically tested (Epicutan-test). 
In all cases do not use if you have a known allergy to hair sprays, a sensitive skin or skin disease. Avoid spraying Hairfor2 into eyes.